Automated Drinking Water Management System
The Automated Drinking Water Management System (ADWMS) is an automated system comprising IOT devices, smart meters & modules, communication networks, sensors, solenoid valves and a software application that automates the system by controlling the pumps (for water supply) and valves (inlets and outlets) based on various parameters. We deploy, commission and integrate the system and manage it. This ensures optimum water supply, reduces electricity consumption of water pumping, detects dry bores, defective pumps and controls pump timings. It automates the entire management of the system and remove the need for human intervention in remote/rural areas. 
The system includes a smart meter that controls the pump. There is a level sensor that determines water level in the storage tank. There are actuators that control outlet valves (as well as inlet valves wherever necessary) from the storage tank. All these devices communicate to a gateway in the waterworks station. The gateway in turn communicates with the head and software over a communication network. The software contains the program logic based on the configuration of all the components, to control the operation of all the devices. It reads data from these devices at predefined intervals and provides the required outputs in terms of managing the system, determining the amount of supply, and the electricity consumed. The system will also optimize operation and management of the waterworks station.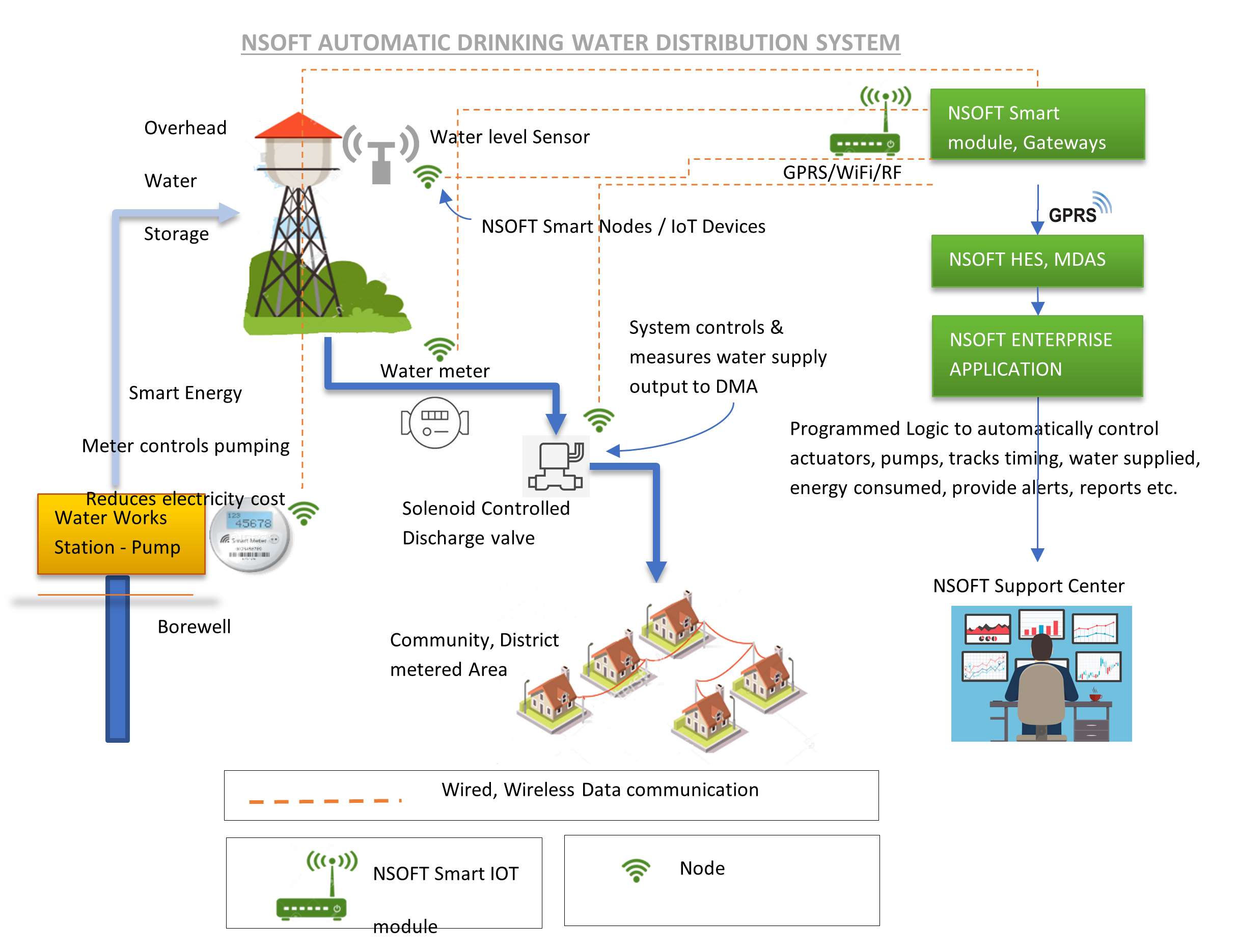 Operate the pump remotely for the exact duration required
Eliminate dry run of pumps
Detect leakages in storage tank, wastages and excessive consumption.
Undertake predictive maintenance of system and monitor health of all assets
Ensure savings in electricity cost of pumping
Supply optimum quantity of drinking water on daily basis
Prevent and reduce water pump breakdown and overheating. Detect faulty pumps. Increase life of pumps.
Monitor water table quality
Automated operation of the water supply system
Record accurate consumption of water and electricity
Data based understanding of the usage of the Water supply installation by collection of various parameters like units, load, PF, time etc.
NSOFT (India) Services Private Limited.
580, 30th Main Rd, 7 Block, Banagirinagara, Banashankari 3rd Stage, Banashankari, Bengaluru, Karnataka 560085