Total Revenue Management for Utilities
NSOFT TRM (Total revenue management) solution is a complete cloud based enterprise software application that automates data collection, work process and analysis in billing and collection for utilities & controls the meter. It reduces loss by increasing billing & collection efficiencies, and helps Utilities to increase profits & revenue.
TRM captures meter readings, processes data, produces bills, records cash collection and provides visibility into operations for top management in the form of MIS – Reports, Alerts, Dashboards, Analytics

TRM solution includes a head end software, which can automatically communicate with the meter wirelessly as in the case of AMI, or manually collect meter data using a range of intermediate devices like mobile phones, spot billing machines, optical ports which in turn communicate with the software over GPRS.
TRM system captures consumer details, maintains consumer master data, records actual consumption, keeps consumption history, produces bills on the spot in the field, captures cash collection data, matches consumption, demand and collection data, accounts for energy usage, churns the enormous amount of big data collected, analyses the data and produces a variety of reports & dashboards to management for operational control.
The system has a powerful and robust rules engine that maps the workflow and business rules in utilities and automates the process.
Consumers can be categorized, differential pricing schemes can be implemented, subsidy can be administered, forecasting and analysis of data can be done to support top management in decision making.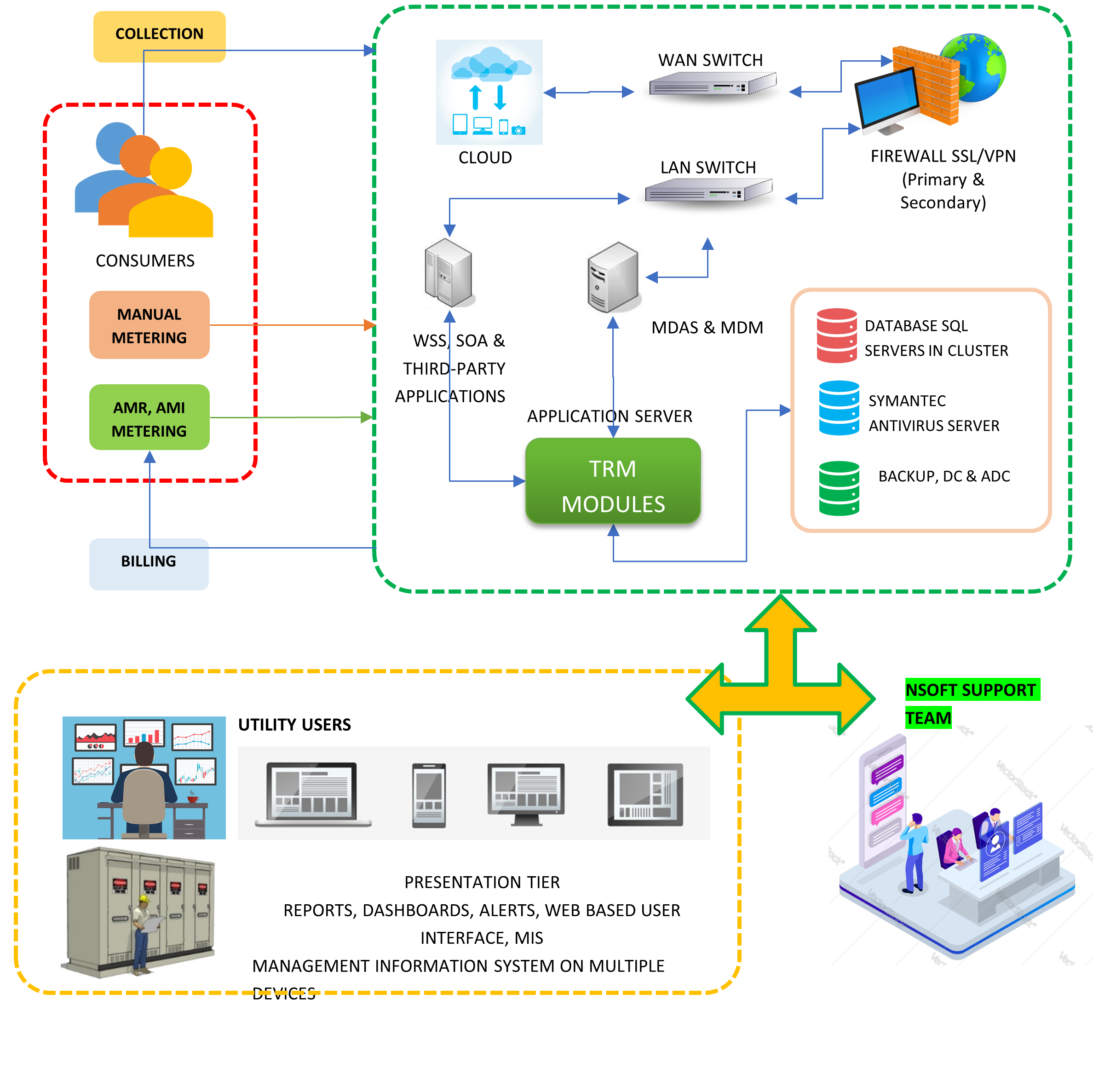 Features
Our Cloud based TRM includes a host of features & modules that come with web access, mobile applications and analytics capabilities
Metering (SMART/AMI & MANUAL)
In the case of AMR/AMI, meter data is automatically and remotely collected at pre-defined intervals.
Manual meter reading, reading via optical port and drive by metering are possible using mobile devices even in offline mode, and system is synced upon availability of connectivity.
Meter data management system
Collects, stores and manages meter data like units, Voltage, Current, Maximum Demand, KWH, and Tamper Events from various types of meters.
Data integrity checks and audits are performed.
Supports, manual meter reading, optical meter reading, drive-by reading, AMR and AMI.
In case of AMI, it connects with the MDAS to automatically obtain meter data.
The billing module obtains data from the MDMS for automatic end of cycle bill processing.
Disconnection-reconnection module
For effective collections, non-paying consumers can be automatically and remotely disconnected and reconnected based on business rules.
This is done automatically in the case of AMI.
In the case of non-AMI systems, or manual meter reading the disconnect status can be updated manually in the software based on inputs from the collection module and it can provide alerts to Utility and update the CRM system.
Realtime Energy audit & accounting
In smart metering/ AMI situation, this module reads real time upstream meter data from Feeder and Distribution transformer and corelates with downstream consumer readings to detect leakages. This helps reduce AT&C loss.
Management Information System
Ability to slice and dice data and generate various views most suited for decision making, tracking demand, collection and arrears, etc. Detailed analytics are possible.
The reports are generated according to the administrative hierarchy of the utility.
Required alerts & notifications can be sent on SMS and email
Utility Administration
Work flow design, mapping of Utility hierarchy and administrative structure design. Modules for Utility officers for management of revenue, assets, resources and workflow.
Asset Management
Assets (Fixed & moveable) can be tagged to entities or owners and  be reorganized as per administrative /network hierarchy.
Billing
Bills are generated at the end of the month automatically in the case of AMI/AMR metering.
For manual billing, a mobile device with a mobile billing app is used to generate the bill offline, and later sync with the head end software.
Supports both prepaid & postpaid billing.
Collection
The module allows collections to be reconciled against demand
Allows collection through various channels such as digital/online payments, Mobile cash counters, kiosk collection at Utility office.
This completes the revenue cycle and makes the entire metering, billing and collections cycle more productive and quicker
Mobile applications
System comes with required mobile applications.
New Connection Process
Automates submission of consumer applications (and changes such as load extension/reduction etc) through various channels, tracking of the applications, closure upon installation and collection of all consumer details including GIS details as per EODB guidelines
Identity, Access management & security
Identity management for user provisioning has ready work flow for automating approval process, access management allows role-based bio-metric authentication to required application functionality.
Events are also logged in the system for security and audit trail.
Data is encrypted in transmission.
Consumer profiling
Detailed consumer data, indexing and tagging of consumer can be done. Consumption history details are maintained.
GIS module
Maintains location data of all meters and other critical assets in the system.
Provides location-based reports and ability to view non-paying consumers on google maps.
Third Party IT system integration
System uses a SOA and integrates with external/existing IT systems (billing, MDAS, MDMS, etc) through APIs and Web Services.
System
The system logs all data related to modifications in the database.
The system is created with redundancy of the Servers and SAN.
The Servers are located in a Data Center which has no access to external persons.
Web Self Service
This functionality allows consumers to access their accounts and view consumption history, make payments, read about updates and schemes, and raise grievances.
Master Data Management
Creates office, administrative and network hierarchy for effective management of assets, revenue and work
Network Security
The network architecture of the TRM has the provision to secure with firewalls and WAF. The system shall also allow host-based firewalls to be configured, as an additional layer of security if the network firewall were to fail. The system is secured through a Secured Socket layer-based VPN. The VPN encrypts the data on 256-bit encryption mode. The users request passes through the firewall, packets are validated   and passed to the application
Malicious Software Prevention
Implementation of anti-virus software and other malicious software prevention tools shall be supported for all applications, servers, data bases etc.
Authorization controls
A least-privilege concept such that users are only allowed to use or access functions for which they have been given authorization shall be available. The users are mapped to Roles which have been assigned specific permissions. The system has a workflow built in to create approvals at multiple levels. The Approvals are created through Biometric entries of the authorized user.
Secure Access controls
The System shall include mechanisms for defining and controlling user access to the operating system environment and applications. Best practices from enterprise security including password strength, password aging, password history, reuse prevention etc. must be followed for access control.
Monitoring, back up and DR
To monitor the performance of the system Site 24/7 monitoring tool is installed. This tool monitors System up time and Resource utilization
The backup is taken in a Differential Mode as well as absolute mode.
Transactional backup once in 15 min.
Differential backups on Mon to Friday
Absolute Backup on Saturday.
Ongoing incremental work management
Implementation of HT/LT New connection process, EODB (ease of Doing Business), fast track new connection and other process, solar rooftop connections
Integration with AMR system for HT Bill generation, seva sindhu services, DTC Metering system for carrying out energy Auditing, with MDM for synchronization of master data
Integration of RAPDRP and Non-RAPDRP Dashboard
NSOFT (India) Services Private Limited.
580, 30th Main Rd, 7 Block, Banagirinagara, Banashankari 3rd Stage, Banashankari, Bengaluru, Karnataka 560085